Ancient Rokka
Rokka is a semi-mountainous village, with approximately 30 permanent residents, in western Crete.  In the archaeological region of Rokka (coterminous of modern village) and the acropolis Troulli, signs of ancient settlement are distinguishable, like the homes, the paths, the watertanks as well as the byzantine fortress that dominated the hill.  Rock is the characteristic stone of the area which creates the identity of the geographic region.
The amphitheatre-like view of Rokka, the natural beauty of the gorge and the energy of the rocks establish this archaeological area as unique in all of Crete.
Kera
Kera is 12 km southeast of Kissamos and has about 30 permanent residents. The etymology of the word Kera is still to be elucidated. Though some argue, without being confirmed, that the ancient city owes its name to the ally city Polyrhenia, Kerea, that it is said, it was somewhere around that area. The village is a crossroad of history, tradition and natural wealth. The stone sculpture of Antonousas Kastanakis, the brave warrior of the 19th century, crafted by the distinguished sculptor Aspasia Papadoperakis, dominates the square of the village and testifies to its struggles.
The "Plakoura" as it is called the old village settlement, the water mill, the forest with the waterfall and the caves with the stalactites make up a uniqueand beautiful scenery unfolding in the eyes of the unsuspected visitor. The cultural association of Kera ¨Antonousa¨ from the first Giortes Rokkas was the most prominent supporter, as the two neighboring villages are linked by brotherly ties. Starting from  this year's event, a big stage is constructed – a great celebration that hosts artistic and educational activities dedicated to theater and visual arts.
"Let our villages become… villages with lights on"
The archaeological area of Rokka has not been utilized until 2012 when the preparations began for the first event.  This, in connection with the redevelopment of the village in 2015, motivated the residents to become more involved in the village, for the youth to return in the summer and open their homes. But it also boosted tourism by establishing the area as a point of attraction for visitors throughout the year.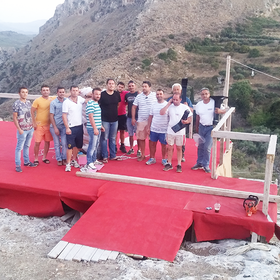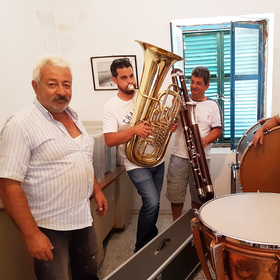 "Giortes Rokkas redefine the lost dialectic relationship of culture with the local community. They highlight the culture, its top expressions, the hidden multidimensional wealth and the development prospects of the hinterland. Mostly, however, they strengthen the small community of residents of the villages of Rokka and Kera, presenting a new model of collective intervention to the area." Panagiotis Simandirakis, Vice-governor of Crete, President of the Organizing Committee of Rokka
"A celebration in our home, that's how we look at it. We want people to come here and leave safely, and in the time between enjoy themselves; to offer them our hospitality and do everything we can to take care of them like a good host who is celebrating in his home." Antonis Giannarakis, President of the Rokka Cultural Group
"Our village shined." Eftihis Papadakis, president of the Rokka Community
"I felt great pride when they stopped me on the street to congratulate me for my village." Giorgos Kastrinakis, president of the Keras Cultural Group
"I loved my village even more." Christos Maragoudakis, Vice-president Roka Cultural Group